Other Forms of Intellectual Property
While patent, trademark, and copyright area the most prominent areas of IP law, other doctrines shape the commercial world around us as well.
Bottle of Governator Ale (2004)
(unlitigated) (2004)
(brewer stopped making Governator Ale after being threatened with a lawsuit by Arnold Schwarzenegger, the California governor, on the basis of a right-of-publicity claim)
---
Wes Westrum trading cards from Bowman and Topps (1951)
202 F.2d 866 (2d Cir. 1953)
(recognizing a tort cause of action for violation of the "right of publicity")
---
First-edition hardcover of Touching by Gwen Davis (1971)
92 Cal. App. 3d 61 (Cal. App. 1979)
(permitting a defamation claim against a work of acknowledged fiction). The Bindrim case, while nominally about defamation, recognized a tort that was so far reaching, it provided the plaintiff with something like an intellectual-property right.
---
Jack-in-the-Box football-helmet antenna topper
U.S. Design Patent no. Des 420,670 for "Football Helmet Antenna Ornament" (Feb. 15, 2000) was asserted against promotional Jack-in-the-Box-head antenna topper.
---
Marilyn Monroe mug with Milton H. Green photo (2007)
568 F. Supp. 2d 1152 (C.D. Cal. 2008) and 486 F. Supp. 2d 309 (S.D.N.Y. 2007)
(denying a post-mortem right of publicity for the estate of Marilyn Monroe)
---
Motorola SportsTrax pager (c. 1996)
105 F.3d 841 (2d Cir. 1997)
(holding that transmitting real-time scores of sporting events is not actionable misappropriation)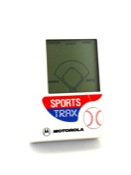 ---
Tornado Taz toy (c. 1990s)
208 F.3d 368 (2d Cir. 2000)
(allowing contract claim for toy inventor claiming his toy idea was used without compensation)
---
Cardtoons card for "Treasury Bonds"
95 F.3d 959 (10th Cir. 1996)
(parody baseball cards present no actionable violation of players' rights of publicity because of a First Amendment fair use defense for commercial parody speech)