Is it Fair Use?
Zatarain's Fish-Fri
698 F.2d 786 (5th Cir. 1983)
(use of the term "fish fry" was fair use where plaintiff Zatarain's sued on basis of "Fish-Fri" trademark)
---
Air Pirates comic book, volume 1 (1971)
581 F.2d 751 (9th Cir. 1978)
(portrayal of Disney cartoon characters smuggling drugs and engaging in various sex acts deemed not fair use)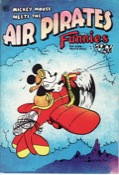 ---
Fair Use by Negativland, radio promotion edition (1995)
Negativland released the protest album Fair Use after Island Records sued the band over the use of samples of U2's "I Still Haven't Found What I'm Looking For" combined into a song with profanity-laden outtakes of American Top-40 disc jockey Casey Kasem.
---
Put it Where the Moon Don't Shine album on vinyl LP by Rick Dees (1984)
794 F.2d 432 (9th Cir. 1986)
(holding that the parody "When Sonny Sniffs Glue" by Rick Dees was permissible fair use of the song "When Sonny Gets Blue")
---
The Life of Washington by Charles Wentworth Upham (1840)
9 F. Cas. 342 (C.C. Mass. 1841)
(recognizing the fair-use defense to copyright infringment, and setting out the classic factors for fair-use analysis)
---
As Clean as They Wanna Be, LP, by 2 Live Crew
Oh, Pretty Woman, sheet music, by Roy Orbison & Bill Dees
510 U.S. 569 (1994)
(applying the fair-use doctrine to insulate a parody song from copyright infringement)
---
Barbie Girl, CD single, by Aqua (c. 1997)
Butterfly Art Barbie doll (c. 1998)
296 F.3d 894 (9th Cir. 2002)
(rejecting toy maker's trademark-dilution suit on the basis of fair-use doctrine)
---
Sony Betamax SL-7200 (c. 1977), the first commercially successful VCR in the United States, and Betamax cassette tapes
464 U.S. 417 (1984)
The "Betamax Case" gave safe harbor to homes across the nation using VCRs to record broadcast TV.